How to Remove Facebook Group from your Facebook: How to Delete a Facebook Group guide: today I will guide you how to delete a Facebook group which you have created on facebook. When we Create facebook group its very easy like in just one click and your facebook group will be created. However, when we need to delete a Facebook group which have many number, now you have to go through some important steps to delete your Facebook group which you create earlier.
Note: if you want to delete a group from facebook you should be a admin of that particular group.
Now let's come to the point, of how to delete a Facebook group. Now I will show you how easily you can delete facebook group in just five steps.
Now facebook allow a feature to archive group which you do not want to use. Admin of group can archive facebook group that you may not want to use, just go to setting and archive group. No one can be able to post or comment in this group.
In order to delete facebook group from facebook, you need to first remove every group member from group, and then remove yourself to delete facebook group permanently.
How to delete a facebook group?
Step 1: Login to your Facebook & move into your group, which you want to delete from facebook.
Step 2: here you will find in the right side, "Members area" or go to your members of your entire group. When you go to member area it will show you list of all group members which you have into your group.
Step 3: Select every member and delete every member from group.
Step 4: Choose "delete member" and start removing each group member.
Step 5: Once you remove all facebook members from group, simply remove yourself from your facebook group member list.
Step 6: Once your remove yourself it will show you a error and ask you to confirm you want to delete it just simply confirm it. Your group will be deleted permanently. The group now disappear from facebook.
Once you permanently delete your facebook group including all members and posts it will not recover in future.
How to delete a facebook group members at once?
If you have many members in your group it is very hard to delete all members from facebook for this purpose I will guide you how to remove all members from facebook in just one click..
If you want to delete your facebook account you need to remove all facebook group members from your group and for this purpose I will recommend you to use my following methods.
Instructions to Remove All Members From Facebook Group ?
As we as a whole know that there is no choice to erase Facebook. So to continue with that procedure we need to expel every single individual from that gathering to make bunch cancellation alternative noticeable. Be that as it may, the another incredible issue is there even no alternative to expel all individuals on the double from Facebook gathering. So we have to physically expel then one by one. Most likely that assignment will be better if having couple of hundreds generally this undertaking going to be tedious. To illuminate this frenzy circumstance only underneath beneath given advances.
1: Most importantly open that Facebook bunch which you need to erase.
2: Presently Switch to individuals tab from route.
3: All gathering rundown will be noticeable and ensure you this from record having administrator benefits.
4: Presently click on right side anyplace and click on Inspect element or press F12 inspect from browser console.
5: please Copy every single code from google drive given in underneath.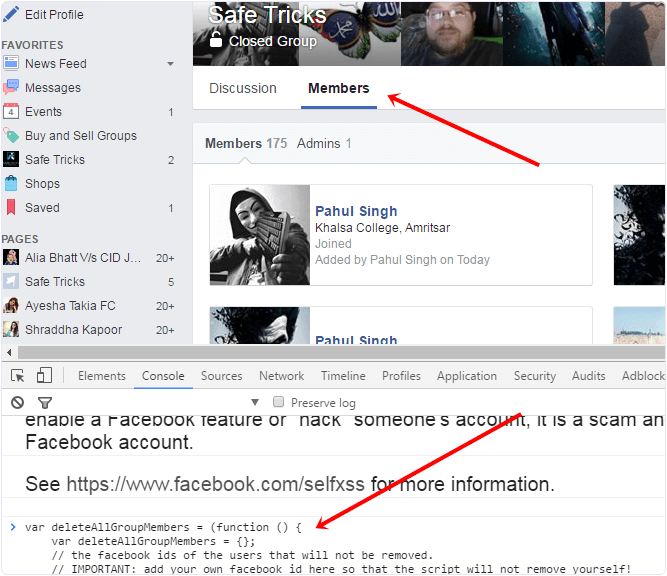 Within a minute process will start and start loading member list, it will take time its time depend on total members you have into your group. So its better to leave this code as it will fetch member list.
When all membres will fetch it will start automatically delete all members from your facebook group and than you need to do last thing which is you need to remove yourself from group and your facebook group will be deleted permanently.
To remove yourself from facebook group as you know go to members area here you will find only you are the person who is into this group click on it and select remove from group/leave group. Facebook will ask you to confirm you want to delete it or not just simply confirm it and your group will be deleted thanks for reading.
I hope you this method will help you to remove all members from facebook and you enjoyed this tutorial of how to delete your faecbook group.